News
05/28/2014
Gideon awarded higher NICET level
Lewiston Maine-
We are pleased to announce that Dave Gideon, the owner and founder of Building Controls LLC has just been awarded Level III certification in Fire Alarm Systems by NICET- the National Institute for Certification in Engineering Technologies.
He joins the less than 6% of skilled technologists currently working in the USA today that have obtained this level of certification in fire alarm sytsems. The NICET certification process is a rigorous process separated from most programs by the requirement to prove both experience and knowledge in the field and is highly regarded by State and Municipal code-enforecement officials as proof of a fire alarm technician's skills and knowledge.
10/04/2013
Gideon receives NICET Certification
We are excited to announce that Dave Gideon, Owner and Founder of Building Controls LLC, has just been awarded Certification in Fire Protection Engineering Technology, Fire Alarm Systems, Level II, by NICET.
NICET- the National Institute for Certification in Engineering Technologies-is a non-profit division of the National Society of Professional Engineers and has been providing certification programs since 1961. Considered by most industry professionals as the premiere organization certifying the skills and experience of technologists working in various engineering fields, NICET promotes the continuing professional development of its certified technicians and technologists through a recertification process that emphasizes updated skills and state-of-the-art knowledge.
Many state and local governments are now requiring NICET certification to measure the qualifications of people working on Fire Alarm and other Life Safety systems. In addition to promising to uphold the highest professional ethics as a condition of certification, NICET also notes "By employing those workers who have demonstrated their technical mastery, employers can provide their customers higher quality goods and services. And, ultimately, the public enjoys a higher degree of safety and protection."
You may learn more about NICET by visiting their website at www.nicet.org
01/12/2013
Pejepscot Housing sees the value of remote video access
Pejepscot Terrace, a modern housing development with over 100 garden-style living units located less than a mile from downtown Brunswick, has chosen Building Controls LLC to install a new, networked video surveillance and recording system to protect their property.
The new system replaces the previous analog camera system with new, indoor and outdoor Megapixel cameras that feature extremely high picture resolution and quality. The new cameras are recorded 24 hours a day onto a dedicated video server that provides management personnel the ability to remotely access live and recorded video right from their office computers or even on their smartphones and tablets!
The new cameras are small and unobtrusive while still covering large areas of the complex such as parking lots and access roads. Building Controls LLC completed the project on budget and with minimal disruptions to the residents during the installation phase. In fact, before the installation was even finalized, the new system captured events occurring on the property that enabled Pejepscot Housing to save an amount of money greater than the cost of the entire system-now that's return on investment!
08/11/2012
Continuum Health Services gets a clean bill of health
Lewiston, Maine-
Continuum Health Services, a Lewiston-based provider of continuing care retirement communities in Maine, has chosen Building Controls LLC to update their fire alarm and security systems.
The existing system had been set up for the previous building tennant and was not well suited to the way Continuum staff were working. Building Controls was able to save Continuum money by re-using much of the existing alarm protection equipment while making the system easy for Continuum staff to operate by listening to their needs and then making system programming changes that simplify the end-user experience.
Building Controls also performs scheduled inspections and maintenance on the fire alarm system as required by law, which results in a system that works when it is needed while reducing unwanted alarms due to dirty or defective equipment.
01/31/2012
Goldworks shines in new location with protection by Building Controls
Building Controls LLC protects new Goldworks Jewelry Store location
Auburn, Maine-
Building Controls LLC was chosen by Tom Cunliffe, the owner of Goldworks, a jewelry retailer located on Center Street in Auburn, specializing in fine jewelry sales and service, to protect his investment in their new location.
Consulting with Tom to meet Goldworks' obvious needs for intrusion and hold-up security while keeping their budget in mind, Building Controls LLC designed and installed intrusion and closed-circuit TV monitoring recording systems into the extensively renovated convenience store that Goldworks now calls home. The intrusion system features multiple perimeter and interior alarm sensors, including door switches, passive infrared motion sensors and sensors that can sense when the store's glass windows are broken by a potential thief. Because the alarm signals are sent using the cellular network, thieves cannot disable the system by cutting telephone lines. As an added bonus, the cellular system sends alarm signals much faster than a wired telephone system- no waiting for dial tone, no wires to cut!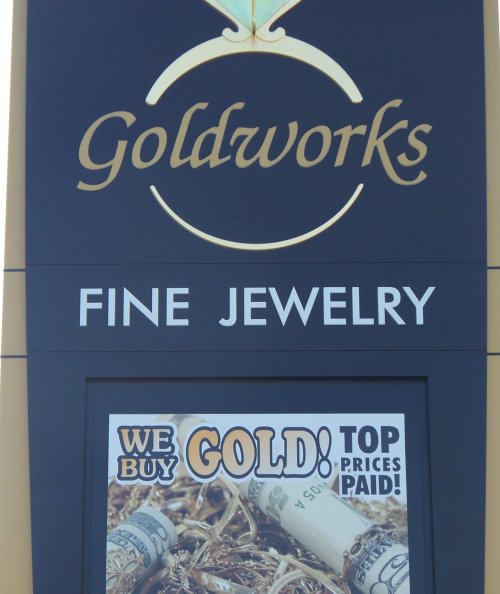 Goldworks also needed to keep an eye on activity both inside and outside the store. Because helping customers is their primary focus, they needed cameras to both watch what was going on during business hours, as well as to document crimes that may happen after closing. The CCTV system that Building Controls LLC designed and installed allows Goldworks to watch both inside and outside area of the building, while remaining unobtrusive to customers.
Building Controls LLC is proud to partner with successful local business owners like Tom to provide advanced, cost-effective security systems that are uncomplicated to operate and come with our personalized, friendly service!
01/03/2012
St. Laurent & Son Inc. digs in with cutting-edge security
Sabattus, Maine-
St. Laurent & Son Inc, a local leader in the excavation and concrete contracting industry, recently acquired a new gravel pit to better serve their customers' needs. Gary St. Laurent, owner of the Lewiston, Maine-based contracting company, has chosen Building Controls LLC to design, provide & install new security systems to protect this new location.
Due to the investment in equipment that St. Laurent & Son Inc. has at the site, Gary considered it essential to protect his investment. He chose Building Controls LLC to provide an intrusion alarm system for the office and shop building as well as to install closed-circuit TV cameras and recording capability. Some of the cameras are of the pan/tilt/zoom type, which can be remotely operated to view virtually the entire complex. Gary chose the best PTZ camera offered by Pelco, a world leader in the design, development and manufacture of video security systems, including high-definition and IP fixed, dome and integrated positioning camera systems; next-generation video management and software-only solutions; video matrix systems; full HD displays and more.
Building Controls LLC is proud to partner with successful local contractors like Gary to provide advanced, cost-effective security systems that are uncomplicated to operate and come with our personalized, friendly service!